Our Policy Positions
Our policy positions are conveyed by our official statements, and contributions to social policy ,consultation processes, regional and national levels.

71st Regional Committee Meeting WHO SEARO New Delhi, India, September 3 – 7, 2018: The Seventy-first Session of the Regional Committee of the World Health Organization Regional Office For South-East Asia convened in Hotel Taj Mahal, New Delhi, India.Side Event on Preparation for the UN General Assembly High-Level Meetings on Tuberculosis and NCD prevention and control, IOGT International statement, by Mr Suneel Vatsyayan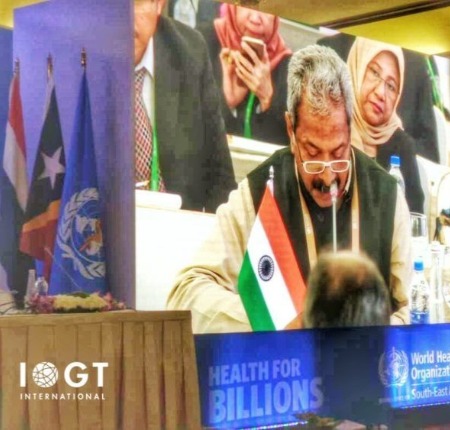 World Congress Declaration Sigtuna, Sweden, August 10, 2018: The Nada India joined as Delegate of the 69th IOGT International World Congress "Future Made Here" call for the adoption of a Framework Convention on Alcohol Control and for governments to make alcohol policy solutions the priority they should be in order to achieve development for all.
Consultation Contributions 2018: Consultation contributions May 16, 2018 IOGT International submission to the WHO Independent High-level Commission hosted web-based consultation (May 10-16, 2018) on a preliminary draft report dated 1 May 2018.
Read more about it in:
#EnoughThe Global strategy to reduce the harmful use of alcohol, negotiated and agreed by WHO Member States in 2010 (Resolution WHA63.13), represents international consensus that reducing the harmful use of alcohol and its associated health and social burden is a public health priority. More information about the global strategy and its implementation can be found here.
Nada India member of IOGT International @NadaPehchaan Alcohol-related harm should be urgently addressed from a child rights perspective. To achieve an #NCDFree healthier society, harmful substances must become much less available – socially & physically.
Nada India submission on 10 years of WHO global strategy to reduce the harmful use of alcohol,......

In 2019, the 72nd World Health Assembly requested the WHO Director-General to "to report to the 73rd World Health Assembly in 2020, through the Executive Board, on the implementation of
WHO's Global strategy to reduce the harmful use of alcohol(link is external)
during the first decade since its endorsement, and the way forward" through a comprehensive consultation with Member States and Non-State Actors. Please follow the
link